The 43rd annual
Stoddard Wells
ROCK HOUND " Tailgate "
Victorville, CA
March 8th, 9th and 10th , 2019 9 — 5:00 p.m. daily
FREE Event ! — Everyone Welcome ! — Public Invited !
All Vendor spaces are FREE on a first come basis
(absolutely NO Holding of Spaces for a friend or Competing with Club's Fundraising Food and Drink Booth)
Handcrafted & Faceted Jewelry, Slabs & Cabs, Findings & Equipment, Minerals & Fossils and TONS of Rough Material.
Saturday FAMILY Field Trip : 9am—1pm for famous marble varieties.
Restrooms, Drycamping, Food, Snacks & Drinks , Prizes and
Rocks — Rocks & More Rocks
Directions:
From I—15 Northbound towards Barstow :
Hwy 15 North THRU Victorville! EXIT Rt. At 2nd Stoddard Wells Rd
at BELL Mtn. EXIT # 157. Turn Left/East at Ramp STOP Sign. STAY
On Stoddard Wells Road 4 mi. until next STOP sign at Dale Evans
Pkwy. "Tailgate" signs high on NW corner power pole. Check Odometer
here! Continue Straight On Stoddard Wells Rd. 7 miles to "Tailgate".
Road becomes a graded dirt road about 4/10 mi. from the Dale Evans
Pkwy intersection. Proceed East/NE past "Grange" fork to
"Tailgate" site. Cars & RVs can make it w/ease & care. "Tailgate" signs along route.
See You THERE ! Rain or Shine We'll be There !
Sponsored by the Victor Valley Gem & Mineral
Club
For more details visit Club Website at
www.vvgmc.org
or call (760) 243-2330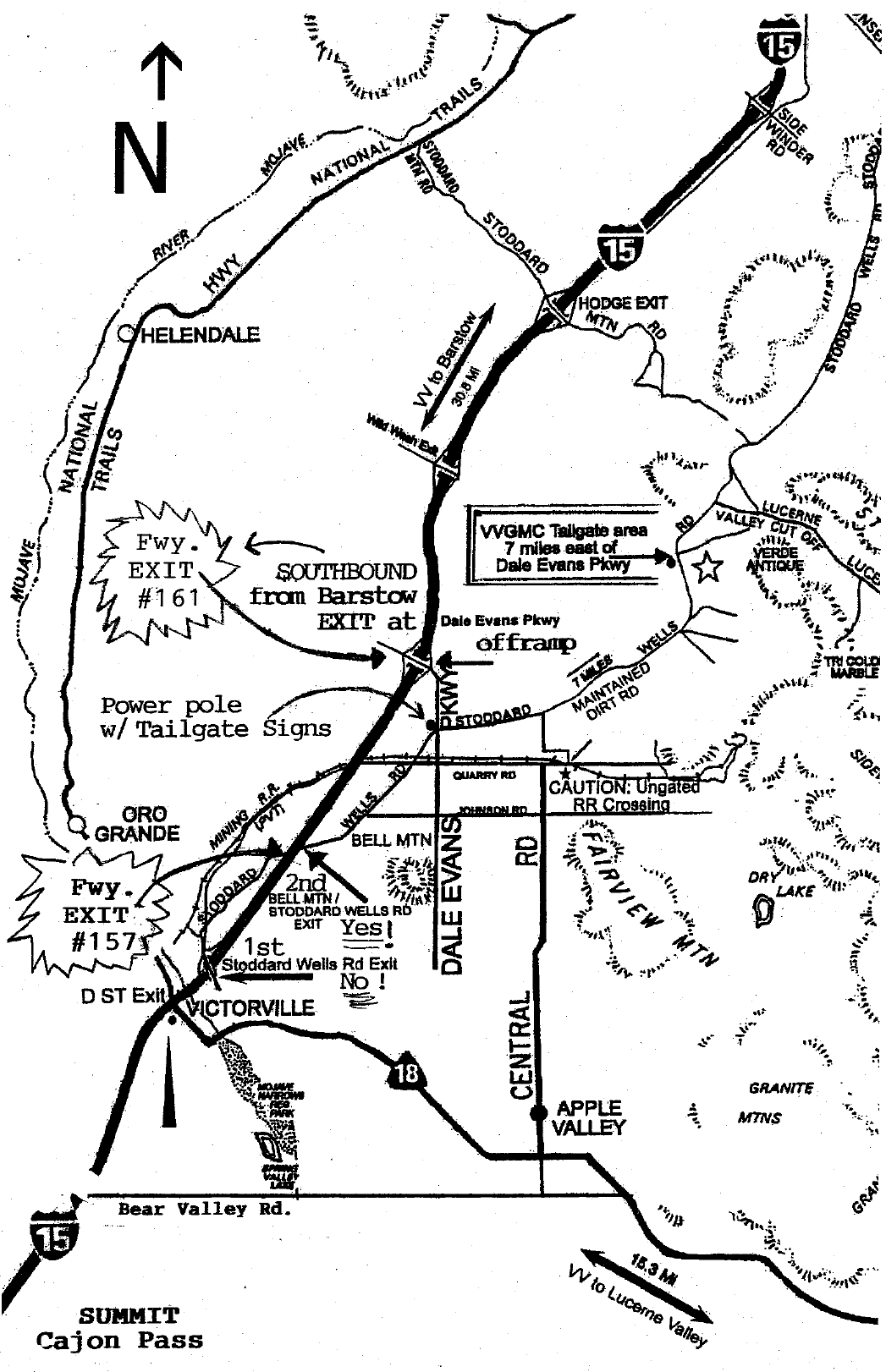 Or click "Directions" on the tent below to have google route you.
---
Field Trip
Tri-colored Marble
Date: March 9, 2019
Time: 9 AM
Meeting Location: VVGMC Tailgate site off of Stoddard Wells Road.
From Highway I-15, take Stoddard Wells road east following the signs to the VVGMC Tailgate.
Wagon Master: TBD
For additional information contact info@vvgmc.org
This trip will be for Tri-colored. There are high quantities of this materials present at on the surface and in the float. Access is on desert roads. At the time of writing the road conditions are unknown. Please assume either a very rugged high clearance vehicle or a 4x4.
Last year we had to fill in an arroyo so the larger vehicles could cross
. The distance to this meeting site is approximately 25 miles from the club. Distance from the tailage site to the collection site is approximately 8 miles. Conditions at the site are for easy to moderate hiking and unlimited material is available within 100 yards of the vehicles. Material is on the surface and in seams. Digging and hard-rock mining are required for choice specimens. Physical dangers include snakes and other normal desert conditions. This is a former commercial mining operation and as such there are open mining pits and high cliffs. There is an age limit of 8 for this trip. All children are expected to be under constant supervision by parents or guardians at all times. Any child climbing on the exposed cliffs will result in both child and guardians being asked to leave the site.
The trip leaders recommend that you bring gloves, spray bottle (water), rock pick, lunch, safety glasses, and adequate drinking water.
No alcoholic beverages will be permitted on this trip.
Please note: The road leading into and out of this site was in very poor condition two years ago. As there is no commercial mining in the region, it is anticipated that the road has continued to deteriorate. It is highly recommended that only 4x4's with high clearance be taken on this trip.
---
Last Years's Tailgate was a great success! We had 62 vendors!